To enhance our Digital Geophysical Mapping (DGM) ability to detect Munitions and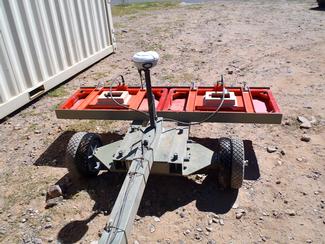 Explosives of Concern (MEC) USA Environmental has developed a custom EM61-MK2 towed array to facilitate mapping larger sites. The array typically hosts two 1 x 0.5 m EM61-MK2 coils side by side for a 2m swath, allowing us to effectively map more area in a day. The array is capable of hosting a third, overlapping coil for detecting smaller Targets of Interest (TOI), if necessary. The array is positioned with a Real Time Kinematic Differential Global Positioning System (RTK DGPS) and is towed by a vehicle of opportunity, preferably a diesel powered 4-wheel drive utility vehicle, rented locally. Towed array data are stored on a Panasonic Toughbook running MagLogPro.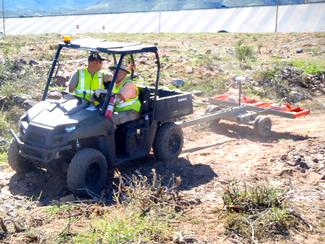 Unique to the towed array design is the capability to pack and ship all components via FedEx overnight. The towed platform can be deployed with either a set of 19" Wheeleez balloon tires or 15" foam filled tires, depending on site conditions.
The towed array has successfully performed two recent and separate 18-acre surveys in El Paso, Texas, with very rugged site conditions in terms of terrain and surface rocks. The system is field tested and ready to go!