As part of a contract with the U.S. Army Corps of Engineers, USA Environmental, Inc. (USA) worked with GSL Solutions Inc. (GSL) in Tampa, Florida, to produce a new digital application (app) and a safety video. The goal of these tools is to provide instruction about the "Three Rs" of Unexploded Ordnance (UXO) safety, namely, "Recognize, Retreat and Report."
The interactive app, called "UXO Safety," was created primarily for children. It follows the adventures of the animated characters Roxie, Sgt. Woof and their friends as they explore Camp Two Feathers and learn about the dangers of UXO.
"UXO Safety" is now available for free at the Apple Store for iPad and at Google Play for Android devices.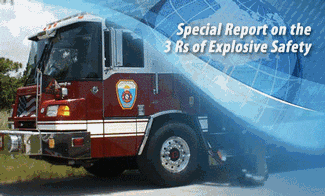 USA and GSL also worked with TV Production students at Southeast High School in Bradenton, Florida, to produce a safety video warning about the dangers of UXO. The 12-minute video uses an imaginary news broadcast to educate children and adults about the potential dangers of and proper responses to UXO that may be encountered.
USA plans to use the video in training demonstrations across the country to teach people about the danger of UXO, especially in areas where the U.S. Military has had, or still has, rifle, artillery, tank or bomb ranges.
"We go to school sites and tell students and parents how to be prepared if they come across Unexploded Ordnance," explained Sarah Gambino, Manager of Marketing and Communications for USA Environmental. "We also speak to adult groups and organizations, such as construction or utility workers, who might come across these kinds of munitions."
You can view video and video game here: http://w3.sas.usace.army.mil/UXO/