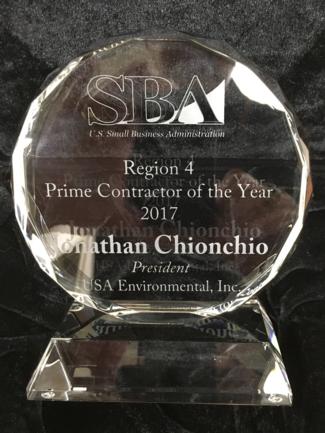 USA Environmental, Inc. (USA) has been selected as the Small Business Administration (SBA) 2017 Region IV's Small Business Prime Contractor of the Year. Region IV is made up of nine SBA District Offices in eight Southeast states. The SBA annually selects the best and most qualified Small Businesses in their respective Regions for various categories, including Small Business Prime Contractor.
USA's nomination for the SBA award was in recognition of their 3Rs (Recognize, Retreat, Report) Explosives Safety Program for educating the public on the proper steps to take when encountering munitions. The Army established the 3Rs Explosives Safety Program in the year 2000 following an incident in which teens removed munitions from an operational range resulting in a fatality and a serious injury.
"Your hard work, innovative ideas, and dedication to your community have helped you to succeed." Robb Wong, Associate Administrator Office of Government Contracting and Business Development, SBA
For people who live, work, or play on or near active installations and Formerly Used Defense Sites the 3Rs Program is vital reminder for Explosives Safety. USA's mission is to safely deliver all munitions response and environmental services, anytime, anywhere, with innovative solutions for the benefit of our clients, stakeholders, and the communities we serve.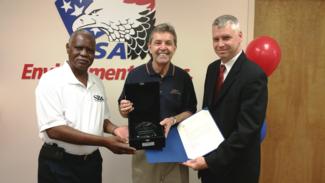 (Left) Charles Long – Lead Lender Relations Specialist & District Int'l Trade Officer, SBA Tampa, FL Office;
(Center) Jonathan Chionchio – President of USA Environmental, Inc.;
(Right) Thomas Van Horn – PCR, SBA Orlando, FL Office
Related Files